Nilfisk Industrial Vacuums
Nilfisk industrial vacuums are the optimal solution for maintenance, cleaning and production automation, and are helpful for cleaning in confined areas and for the removal of hazardous dust and fumes. Industrial vacuums are also useful in places where no dust emissions are allowed, such as areas with dust-sensitive machinery, laboratories and clean room facilities.
Nilfisk presents IPS with three of their highest quality vacuums the GM80P, VHS255 and GD930 Commercial Vacuums for use in the IPS Training Institute during the EVS Manager Training Program. This program is providing a paradigm shift for the entire cleaning industry, especially in the healthcare sector where HCAPS scores and reduction in HAI's are paramount to patient safety. Contact us today to see how IPS can assist your organization in providing a cleaner and safer environment.
GM80P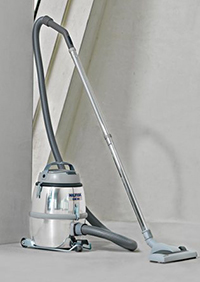 Vacuum cleaner for users needing great suction power and ease of use. That is Nilfisk-CFM GM80!
GM80P is light in weight, but heavy-duty performer. Mounted on a strong steel trolley with large rubber wheel, the machine is easy to manoeuvre.
Ideal for e.g. production lines, chemi/pharma industries, hospitals and offices.
• Hepa or Ulpa absolte filter version
• Silent
• 10 meters cable
• 9 liters container capacity
• Light, only 5 kg
GD930 Commercial Vac – 40 years of p​erfection​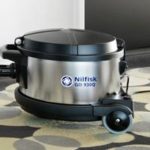 With the GD 930Q we have especially focused on improving sound and hereby productivity. With this quiet machine, daytime cleaning is actually an option.
The dual speed makes it possible to clean without disturbing surrounding environment. You can clean amongst guests in the lobby, Or in front of rooms without waking the guests or in any other open space.​
---
TOMI's SteraMist™ is now EPA registered for use in hospitals and healthcare facilities and IPS is a proud owner!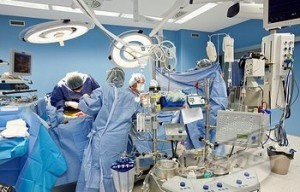 TOMI™ Environmental Solutions, Inc. is a global bacteria decontamination and infectious disease control company, providing environmental solutions for indoor surface decontamination through manufacturing, sales and licensing of our premier platform of Hydrogen Peroxide based products that uses Binary Ionization Technology® (BIT™), a state of the art technology for the production of its disinfectant fog/mist represented by the TOMI™ SteraMist™ brand.
TOMI's products are designed to service a broad spectrum of commercial structures including hospitals and medical facilities, biosafety labs, clean rooms, pharmaceutical manufacturing, cruise ships, office buildings, hotel and motel rooms, schools, restaurants, military barracks, and athletic facilities. TOMI's products and services have also been used in single-family homes and multi-unit residences.
---
IPS used cleaning systems by FILMOP.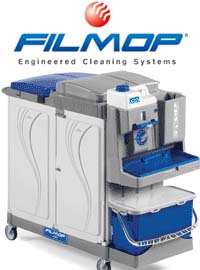 Designed for complete customization, the ALPHA line of workstations provide many features for healthcare cleaning needs to decrease HAI potential and create positive patient perceptions that can impact HCAHPS:
Simple, Secure:
Polymer security locks for dome covers, trash covers, and pull-out cabinet drawers
Equodose Mobile Microfiber Charging System locks separately
Quiet, Clean Operation:
Patients not disturbed due to extra quiet operation
Hydraulic closing pistons = 100% noise free closing of covers/domes
Polymeric swivel wheels are 35% quieter than standard casters
Precisely engineered co-polymer components are 30% quieter than metal carts
Equodose Mobile Microfiber Charging
Ergonomic Engineering:
Lightweight polymer construction = less effort to maneuver
Polymeric wheels provide total front-to-back and 90-degree side-to-side
Pull-out cabinet drawers reduce kneeling and bending
Can be repaired/ replaced easily without investing in entire new workstation
Microfiber Charging Systems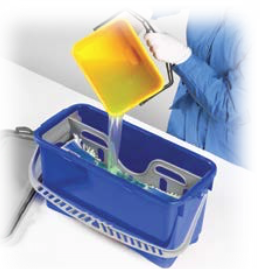 Filmop provides patented options for charging microfiber mops and cloths, including the unique Equodose® Mobile Microfiber Charging System.
Highlights:
IPS staff do not have direct interaction with soiled mop heads, reducing the potential for cross contamination on unsoiled products and/or other areas by using a fresh, new microfiber mop for each room.
Superior microfiber manufacturing means mops are more evenly saturated and uniformly disperse cleaning solution.
Saves labor costs by eliminating wringing and water changes.
Saves water and chemical costs with innovative charging systems.
On-demand charging addresses quat binding concerns.
Top Down Charging System
IPS pre-charges using a very efficient way to have prepared mops as we conduct cleaning in each OR, patient room or when we use IPS proprietary systems that involve two wipe downs of floors.
Up to 30 microfiber mops charged at one time.
Uses just 1.5 gallons of cleaning solution.
Ready to use in 30 minutes.
No trips to water source.
No touch, no wringing.