IPS Training Institute | 2021 Pulaski Highway, Suite D | Havre de Grace, MD 21078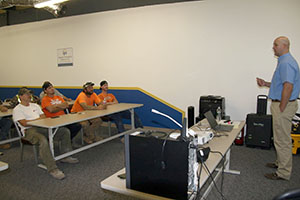 Most OSHA and EPA required training programs are not specifically defined in the criteria as they are performance based training programs. Those with specific criteria and/or certified training requirements are available and we should discuss in depth to identify a target audience. An outline for each of the topics below and cohort into an organized format but for now this should suffice to create talking points for us to further discuss.
Click HERE for upcoming classes.
Hazard Communication including the requirements of Global Harmonization

• 1 hour overview (should meet training requirements for low hazard agents)

• 2 hour worker and/or site specific

Confined Space Training

• 4 hour entrant and/or attendant

• 6 hour supervisor w/ hands on training

• 8 hour competency by exam

Introduction to OSHA

• 4 hour in depth program

How to Manage and OSHA Compliance Inspection
Electrical Safety

• 8/6 hour competency by exam

• NFPA 70e – 4 hour program

Personal Protective Equipment

• 1 hour overview for General Industry

• 2 hour expanded with example hazard assessments in GI

• 1 hour overview for construction

• 2 hour expanded included Hazard Assessment in construction

• 2 hour expanded to meet criteria of EM-385 (Army Core of Engineers)

Respiratory Protection

• 3 hour Program Administrator for FFFP, PAPR, NAPR

• Fit Testing Train the Trainer

• Perform respiratory protection training and fit testing

Lockout Tagout

• 4 hour operations level

• 6 hour competent person with hands on and exam

Hazard Identification and Control

• 4 hour competent person by exam

Hazard Assessment

• 2 hour expanded with didactic exam

Fundamentals of Environmental Occupational Safety and Health

• 4 hour overview – introductory

• 8 hour with qualification by exam

OSHA 10 and 30 Hour for General Industry

• Will be certified by January 30th 2014

OSHA 10 and 30 Hour for Construction

• Will be certified by December 23rd 2015

Bloodborne Pathogens

• 1 hour overview/refresher

• 4 hour competency by exam

Fall Protection

• 4 hour supervisor for understanding regulations and implementing fall protection plans

• 8 hour competent person

Excavation and Trenching

• 4 hour expanded operations

• 6/8 hour competent person by exam

Hazardous Materials
Fire Prevention and Life Safety

• 1 hour overview – low level understanding and response per occupancy

• 2 hour expanded overview – including site specific protocol provided by client

• 4 hour operations level

• 8 hour competency by exam

Emergency Preparedness
Barrier Management for meeting the Statement of Conditions

• 6 hour competency by exam

Machinery and Machine Guarding

• 6 hour competency by exam

Occupational Noise Exposure

• 6 hour competency by exam

Powered Industrial Trucks
Walking Working Surfaces in General industry
IPS offers the following Training Classes Thru Out the Year:
OSHA 10 and 30 Hour Outreach Programs
• General Industry
• Construction
Fire Safety
• Hands on fire extinguisher training (this is an annual requirement so we want to emphasize that) all industries
• High Risk OR Training – Joint Commission Patient Safety Goal (need the year)
• Defend in Place Fire Response – Healthcare specific
• Fire Safety Evacuation and Response
OSHA – Nuts – n- Bolts: for all industries, program can be 1, 2, or 4 hours
Forklift Training: program for new hires and recertification every 3 years
New Hire Orientation Programs: soup to nuts NHO program for employers in all industries
Incident Investigation and Control
Safety Inspection Training Program/li>
Confined Spaces – 2 hour awareness, 4 hour technician, 6 hour Supervisor and 8 Hour Hands On Program
Construction Safety – EM 385-1-1
Trenching and Excavation