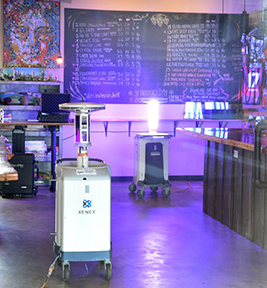 Robert Albrecht and his employees at Infection Prevention Systems LLC have been booked solid in recent weeks with clients who want their facilities disinfected to protect the occupants from the novel coronavirus. One location that received a recent pre-emptive cleaning was Independent Brewing Co. in Bel Air. The taproom of the craft brewery was disinfected last Friday using a Xenex robot that can bathe a section up to 40 feet in diameter in pulses of ultra-violet light.
"In the taproom we have constant people, [an] ebb and flow of people, and really no way to do a comprehensive overall cleaning," brewery owner Phillip Rhudy said.
Bars and restaurants, as well as taprooms, throughout Maryland are not open to sit-down customers, in accordance with one of many orders from Gov. Larry Hogan curtailing interaction between people to slow the spread of COVID-19, the respiratory disease caused by the novel coronavirus. People can visit those places for carry-out orders, though — patrons of local craft breweries have been able to pick up beer in to-go receptacles or get their growlers and crowlers filled.
"We still are open for carryout business, so we wanted to protect our customers as well as our staff," said Rhudy, who noted that "we get a good flow of people" in the taproom.
Many people are staying home to avoid contact with others, or care for their children while schools statewide are closed through late April.
"I would consider beer part of the staples of being hunkered down," Rhudy joked.
Rhudy said he learned about Infection Prevention Systems through a business partner, Harry O'Neill, who is friends with the company operators.
"It's basically a strobe system that directs intensified UV-C light in all directions," Albrecht said while describing the Xenex unit, which is made by Xenex Disinfection Systems of San Antonio.s.
"Now we are booked, booked solid" with requests to disinfect sites, such as commercial buildings where an employee has been sick and the facility operator wants to ensure coronavirus is not transmitted to the rest of the workforce, or sites where a number of visitors are expected, according to Albrecht.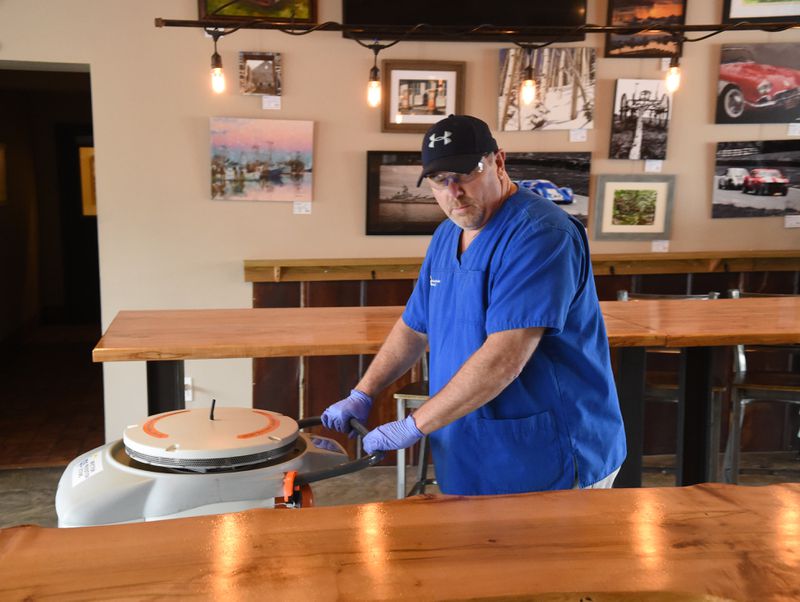 The company currently has a workforce of five, including Albrecht, but he is working to double its size.
Albrecht's company has acquired three of the units, all of which had been previously used by the federal Veterans Affairs system. The second and third Xenex units were obtained in the past 30 days, he said.
The robots are one of many products his company uses for disinfecting facilities. More information is available at the company website, ips-clean.com.
The Xenex is most effective in an area that is free of debris or other objects. Albrecht described, during the demonstration, using the robot in a medical-surgical unit by moving the beds out of the room, then "blast" the room with the UV light, hit the beds from one site with the light, turn them around and hit the other side, and finally put the beds back in the room.
The machine operator spends 10 to 15 minutes disinfecting a room, depending on its size, he said.
Albrecht said Wednesday that the Xenex also has been used in medical facilities such as operating rooms, catheterization labs, offices, even control rooms at radio and TV stations. His company's services also can be used in homes where residents want to prepare their dwellings for a person who is immuno-compromised.
"We've taken this [service] from the health care industry, and we've moved it out into the private sector," he said.
Story By DAVID ANDERSON and MATT BUTTON for the Baltimore SUn
Infection Prevention Systems was featured in the Baltimore Sun.